Add to Favorites
Click the next to any record to add it to your Favorites.
Click the again to remove it.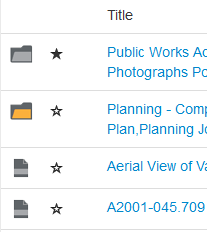 Review Favorites
Retrieve the list of records you have starred by clicking Favorites.

You can print the list, and/or email it to parc@portlandoregon.gov to request records.
Remove Favorites
Click the star to remove the record from your favorites.
Favorites are designed to save only for the current browser session. Closing and re-opening the browser should clear the list. If it does not, you may need to empty your browsers cache (shift+ctrl+del).