Simple Search
To search Efiles using a simple search:
Click on the left-side drop-down button and select a search method.
Type the text you wish to search for in the equal to text box.
Click Search

Advanced Searches
Advanced searches combine two or more search methods. This is achieved by using the AND [default] and OR options in the form.
To search the database using an advanced search:
In the Search For list, click on the drop-down button to select a search method. You may select up to three types of search methods on the search page.
For each search method you select, type the text you wish to search for in the equal to text box.
Click AND if the results of the search must contain all of the search terms you choose.
Click OR if you would like to display records which contain at least one of the search terms you choose.
Example Using Two Methods with AND:

Sorting

Record Date - Sorts by Record Date, oldest to newest.
Title - Sorts by Record Title, A-Z
Descending - Reverses the sort order for the selected method
Filter
Check Include Electronic Only to only display records that have an electronic object.

Date Range
See Search Methods to see how to add a date range to Efiles searches.
Quick Searches

This allows any search from a simply title word search to a complex query to be composed. To search Efiles using quick search:
Type the title word or words to search for in the quick search text box
Click Quick Search
Browsing Results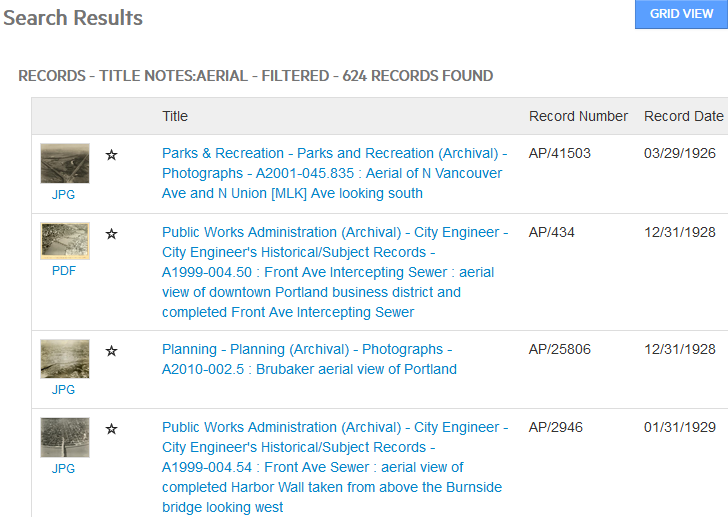 When the results of a search are displayed, the links for each listed record will take you to a record details page where more information about that record is listed.
Use the results navigator buttons along the bottom of the page to choose a page number, or use the arrows to select the next or previous page.
Viewing electronic documents

To view an electronic document or file:
Click on the record type icon in the search results, or the file extension (PDF, DOC, JPG).
To see record details click on the Record Title.
Saving Search Criteria
After performing a successful search it is possible to save the search as a bookmark. When you reload this bookmark in your Web browser Efiles will perform the search and return the search results as if you had entered the search from the search page.